Apr
22
Fri
Earth Day 22nd April 2022
The Earth Day 2022 Theme is Invest In Our Planet. What Will You Do? Visit their website for Earth Day events, activities, and what individuals and organisations can do to make a difference… https://www.earthday.org/earth-day-2022/
Apr
28
Thu
Pedrick's Zero Waste Shop – Reusable Nappy and Baby Clothes Give & Take

@ Pedrick's Zero Waste Shop, CR3 6PD
Apr 28 @ 10:00 am – 11:30 am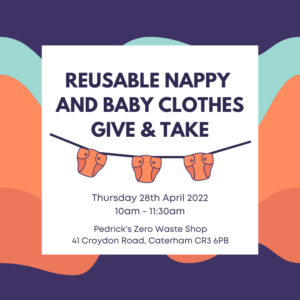 The Pedrick's Zero Waste Team are partnering up with local blogger Eco Jeeks to host a local Give & Take for Reusable Nappy Week.
Parents living in the Tandridge District are welcome to pop in and learn more about reusable nappies, and how they can save your family money and plastic waste. If you have any preloved reusable nappies or baby clothes, we would appreciate any donations that we can then pass on to families in need.
You can drop off donations to the shop anytime, even at the event itself!
More more information, just drop us an email or visit our websites:
https://pedricks.co.uk/ | http://ecojeeks.co.uk/
Eastleigh NCT Cloth Nappy Library – Reusable Nappy Week Meet Up

@ Places Leisure Centre Cafe, Passfield Avenue, Eastleigh, Hampshire, SO50 9NL.
Apr 28 @ 11:00 am – 1:00 pm
Are you a new parent looking to find out more about Reusable Nappy's and the Nappy Library services?
Are you an existing reusable nappy user wishing to meet like-minded parents, or just have a chance to share your enthusiasm?
Come along to our Reusable Nappy Week meet up!
When: 28th April 2022, 11am – 1pm.
Where: Places Leisure Centre Cafe, Passfield Avenue, Eastleigh, Hampshire, SO50 9NL.
For more information: https://fb.me/e/1lRewQb28